Online activism
Online activism as a concept exists around 30 years and takes its beginning from the first online protest in 1990 as got the name Lotus MarketPlace. But in spite of the 30 old history of online activism concept, its methods and approaches in the youth NGOs field are not very well known. One of the project objectives is to empower youth NGOs to develop their actions in the field of online activism by strategic way. Our intention is to move from the "clicktivism" and "to save the world click here" culture to conscious and well planned online and digital activism that implies civic engagement, social mobilization and social changes through strategic usage of Internet and digital tools. Within this line of the project we plan to implement three activities.
Training-seminar on online activism "ACT ONline"

The training took place in Bulgaria in September, 2018.
The main topics of the activity are:
- history of online activism,
- elements and types of online activism,
- "clicktivism" and "to save the world click here" culture,
- good examples of online activism.
Check our blog about this training.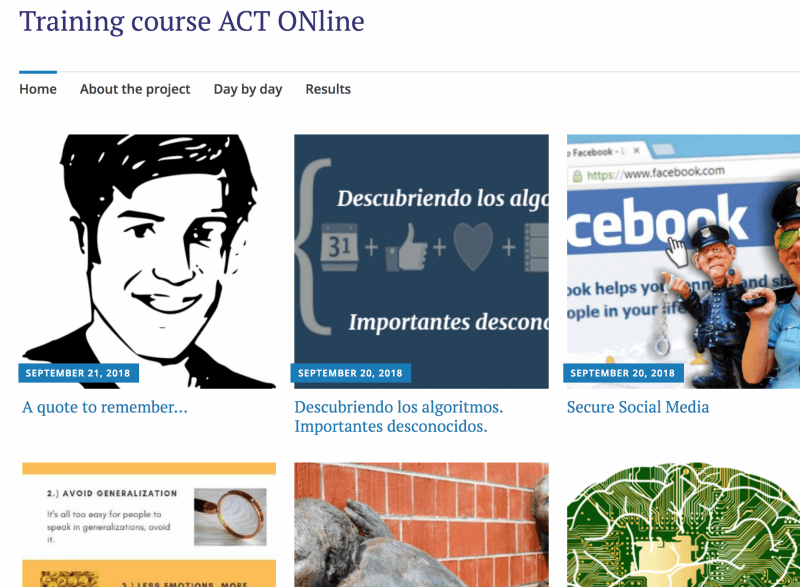 The MOOC on digital transformation of youth NGOs

It is a summary of the all implemented activities. The MOOC will be organized in January 2018 and will last three weeks. Every week will be dedicated to different topic:
1st week – Digital management and social communication,
2nd week – digital tools for nonformal education,
3d week – online activism.
This MOOC could be interesting for the wide spectrum of the professionals working in the field of youth work: directors of the youth NGOs, community managers, youth workers, project managers and youth trainers. So, going through this MOOC, youth NGO will get all necessary tools for digital transformation and professional work in the online reality.
Conference Day
The conference on the topic of online activism that we are going to implement in Barcelona, in February 2019. During this conference we will present all project results.